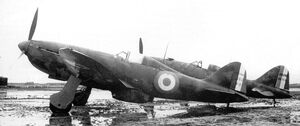 The Arsenal VG-33[N 1] was a single seat fighter built by France before the occupation by Germany.
History
The first of the VG-30 series to enter production, the VG-33 was intended to be a rival for the Dewoitine D.520, Morane-Saulnier M.S.450 and Ouest CAO 200, and a possible successor to the Morane-Saulnier M.S.406. [3]. The type began it's test programme on 24th May 1939, leading to a production contract for 220 examples being placed with Chantiers Aero--Maritimes de Seine in September 1939. This was subsequently increased to 1,000, but only 19 had been completed by the time France surrendered in June 1940,[2] by which time the VG.33 had already served as the basis for the single prototypes of the VG.34, VG.35 and VG.36.[3]
Specification
The VG-33 was powered by an 860 hp Hispano-Suiza 12Y31 inline engine, giving the type a max speed of 347 mph (558 km/h) and normal range of 746 miles (1,200 km). Armament comprised a single 20 mm HS 404 autocannon and four 7.7 mm MAC 1834 M39 machine guns. Measuring 28 ft 02/3 in (8.55 m)in length, 10 ft 10 1/2 in (3.31 m) in height with the tail up, and 35 ft 5 1/4 in (10.80 m) across the wingspan, the VG-33 had an empty weight of 4,519 lb (2,050 kg, increasing with normal load to 5,855 lb (2,656 kg). [2]
References
Notes
Sources
Fighter Aircraft of the Armée de l'Air

Single-Engine Fighters
Twin-Engine fighters
Community content is available under
CC-BY-SA
unless otherwise noted.