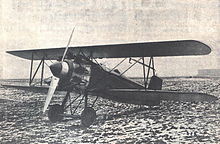 The Avia BH-33 was a single-seat biplane fighter aircraft used during World War II. It was manufactured by the Czechoslovakian company Avia, as well as Ikarus and PWS under license. It was based on the BH-21, an earlier fighter that displayed promising combat performance. The aircraft made its first flight on 21 October, 1927, and was soon pressed into service with the Czechoslovak Air Force. Approximately 180 BH-33's were produced in total by all manufacturers.
Development
While at first, even with an improved Jupiter engine from the BH-21, the BH-33 prototype performed poorly. Two other prototypes, both named the BH-33-1, were constructed, with one being good enough to be produced. A production run of five aircraft was soon ordered by the Czechoslovak Defence Ministry. License production also began in Poland, where it was designated the PWS-A. Development didn't stop there, however, and a completely new fuselage was invented for the plane, with the original slab sided wooden structure being replaced with a welded steel tube structure with elliptical cross section, resulting in the design being redesignated as the BH-33E. Yugoslavia bought some of these aircraft, and was licensed to produce around twenty more. The USSR also bought a few examples for evaluation and testing, although didn't press the BH-33 into service. Another variant, known as the BH-33L, was developed, comprising BH-33E fuselages fitted with longer span wings of greater area, and Skoda three bank twelve cylinder water cooled engines. The Czechoslovak Air Force put around eighty BH-33L's into service, with some continuing to be standard up into World War II. One BH-33E was fitted with a BMW-built Hornet engine, becoming the B-133.[1]
Operational History
By World War II, most BH-33's in the world were retired by their respective militaries, although Yugoslavia used its examples against Nazi Germany, after the latter invaded the former. They were inferior to most newer German fighters and quickly perished in combat. The Croatian Air Force also used some of these surviving fighters later in the war. All in all, the BH-33 is generally considered a successful interwar combat aircraft.
Sources
↑ Green, William and Gordon Swanborough. Complete Book of Fighters. Salamander Books. 2001. ISBN 1-84065-269-1 Page 36
Community content is available under
CC-BY-SA
unless otherwise noted.