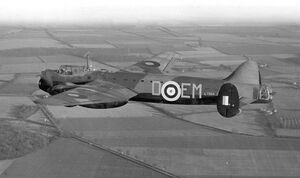 The Avro Manchester (Type 679) was a twin-engined medium bomber used by Great Britain during the early years of World War II.
History
Development of the Manchester began when Avro and Handley Page were awarded contracts for a medium bomber to meet Specification P.13/36, which was issued on 6th September 1936.[2] This called for an aircraft powered by a pair of 24 cylinder X-type Rolls Royce Vulture engines and able to withstand the stresses of catapult launching.[N 1] P.13/36 also called for:
Minimum crew of 2 pilots, 1 wireless/telegraphy operator and 1 air gunner, with addition crew of 1 navigator and a 2nd gunner for longer flights;
Two gun turrets, equipped with two guns (nose) or four guns (tail);
Typical service load with six crew members of 5,900 lbs, increasing to maximum of 8,000lbs, comprising four 2,000lbs bombs OR a pair of 18 in torpedoes;
Provision for carrying troops;
Dive bombing capability.[2]
Following problems with the Rolls Royce Vulture, the H.P. 56 was redesigned as the H.P 57 with four Merlin engines. Avro's Type 679 retained the Vulture engines, receiving the name Manchester after the factory's location.[4]
The first prototype, L7246, made its initial flight on 25 July 1939. After the fitting of a central tail fin to improve stability, L7246 was transferred to the Royal Aircraft Establishment for catapult take off and arrested landing trials, before ultimately crashing at Boscombe Down. The second prototype, L7247, which made its initial flight on 26 May 1940, was fitted with the central fin from the outset, together with the full complement of power operated gun turrets. Located in nose, ventral and tail positions, these each carried a pair of 0.303 in machine guns.[3]
The type first entered service with 207 Squadron in November 1940,[5] and made it's operational debut with an attack on Brest during the night of 24-25 February 1941,[6] only to be withdrawn from service in June 1942,[7] following a raid against the German city of Bremen on the 25-26 of the month,[6] due to the service introduction of the Avro Lancaster.[N 2]
References
Notes
↑ The practice, described as 'frictionless take off' in the specification, was not pursued beyond the initial trials,[3] possibly due to the cost of equipping the airfields, and the problem of launching large numbers of bombers.[4]
↑

Early examples of the Lancaster were built under contracts originally signed for the Manchester, using Manchester fuselages to prevent delays in production.
Sources
↑ 2.0 2.1 Iveson, Tony (Squadron Leader, DFC) and Brian Milton. Lancaster - The Biography. Andre Deutsch. ISBN 978 0 233 00270 3 Page 48
↑ 3.0 3.1

Green, William. Famous Bombers of the Second World War. Purnell Book Services. 1975. Page 205

↑ 4.0 4.1

World Aircraft Information Files Aviation Partwork. Midsummer Books Ltd. File 21 Sheet 2 (World Military Aircraft:Avro Lancaster - Manchester origins)

↑ Gunston, Bill. Illustrated Directory of Fighting Aircraft of World War II. Salamander Books. 1988. ISBN 0-86101-390-5 Page 330
↑ Gunston, Bill. Illustrated Directory of Fighting Aircraft of World War II. Salamander Books. 1988. ISBN 0-86101-390-5 Page 332
Community content is available under
CC-BY-SA
unless otherwise noted.