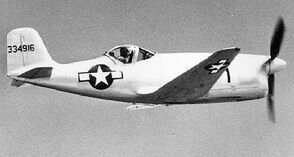 The Bell XP-77 was an experimental single seat fighter bomber aircraft designed to make minimal demand on the so-called 'strategic' light alloys.
History
Unlike comparable British, French and Italian aircraft, the XP-77 used a supercharged Ranger V-770-7 engine offering only 500 hp (373 Kw). The original Tri-4 proposal of October 1941 was expected to reach 410 mph at 27,000 ft, at a weight of 2,700 lb (1,225 kg), with an armament of one or two 20 mm cannon and two 12.7 mm machine guns, the latter being equipped with 200 rounds each.[2] Procurement of six examples of the D-6 variant was authorized in August 1942, with an unsupercharged engine and provision for a 325 lb (147 kg) drop load. The first XP-77 flew in April 1944, and the apparent development problems, coupled with the ready supply of 'strategic' materials, led to the program being cancelled after construction of only two prototypes.[3] Maximum speed was 330 mph (531 km/h) at 4,000 ft (1,220 m) and 328 mph (528 km/h) at 12,600 ft (3,840 m). Range was 550 miles (885 km) at 274 mph (441 km/h) and initial climb was 3,600 ft per min. Empty weight was 2,855 lbs (1,295 kg) and max loaded weight was 4,028 lb (1,827 kg). Wingspan was 27 ft 6 in (8.38 m), length 22 ft 10 1/2 in (6.97 m) and height 8 ft 2 1/4 in.[4]
References
Community content is available under
CC-BY-SA
unless otherwise noted.