The Bogue-class escort carrier was a class of light escort carriers used by the United States Navy during World War II. Eleven of these vessels where completed in time for use in the war.
Description
The Bogue-class had a gross tonnage of 8,400 tons, with a standard displacement at 16,000 tons bearing a deep load. Each ship's dimensions where 151.2 meters long, 21.2 meters wide and 8 meters deep with the flight deck measuring 133.2 x 24.4 meters. The Bogues where designed for rapid convoy escort against Japanese ships, their single geared steam turbine, powered by two boilers generated 8,500 shp, propelling the vessel at 17 knots. In order to make the ships faster, all armor originally designed was striped off, making the ships vunerable to gunnery fire.[1]
The vessels' complements comprised of 24 aircraft, mostly Grumman F4F Wildcats and Vought F4U Corsairs and a crew of 900 men. Armaments were two 5 inch guns and ten 20 mm AA guns.[1]
Service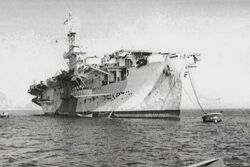 The lead ship of the class, the USS Bogue (CVE-9), was laid down on May 5, 1940, and commissioned in June 1942, by Seattle-Tacoma Shipbuilding. During this period, eleven of these ships where laid down, launched, and commissioned, the last being the USS Prince William (CVE-31), which was commissioned in April 1943. The Bogues served along side the older and far more numerous Casablanca-class escort carriers. All of the Bogues remained in service until 1945.[1]
Known ships
USS Bogue (CVE-9)
USS Card (CVE-11)
USS Copahee (CVE-12)
USS Core (CVE-13)
USS Nassau (CVE-16)
USS Altamaha (CVE-18)
USS Barnes (CVE-20)
USS Block Island (CVE-21)
USS Brenton (CVE-23)
USS Croatan (CVE-25)
USS Prince William (CVE-31)
Notes and references
Sources
Aircraft Carriers And Naval Aircraft
Robert Hewson - The World War II Warship Guide
Bernard Ireland - The Hamlyn History of Ships