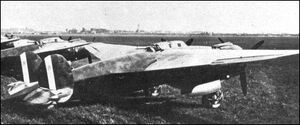 The Breda Ba.88 was a combat aircraft used by Italy during World War II.
History
A propaganda triumph when its appearance was trumpeted by Mussolini's Fascist regime in 1936, the Breda Ba.88 Lince (Lynx) was a sleek all-metal shoulder-wing monoplane. In April 1937 it established two world speed over distance records. Regarded as an aeroplano di combattimento, suitable for attack, long-range reconnaissance or bombing operations, the Ba.88 then had its military equipment and weapons installed. Immediately, performance and flight characteristics fell off dramatically, but by then production orders were already being executed.
On 16 June 1940, just after Italy's declaration of war on France and her allies, the Ba.88 had its first taste of action. Twelve aircraft from the Regia Aeronautica's 19° Gruppo Autonomo made bombing and machine-gun attacks on the principal airfields of Corsica; three days later nine Ba.88s made a repeat attack, Analysis of these operations showed that the Ba,88 had only limited value, and any remaining doubts were settled when Ba.88s of the 7° Gruppo Autonomo joined action in Libya against the British. Fitted with sand filters, the engines overheated and failed to deliver their designed power. Attacks on targets at Sidi Barram had to be aborted in September 1940, the aircraft failing to gain sufficient altitude or maintain formation, and reaching a speed less than half that claimed by the manufacturers. By mid-November 1940 most surviving Ba.88s had been stripped of useful equipment and were scattered around operational airfields as decoys for attacking British aircraft.
Three Ba.88s were modified by the Agusta plant in 1942 to serve as ground-attack aircraft. Wing span was increased by 2.00m to alleviate wing loading problems, their engines were replaced by Fiat A.74s, nose armament was increased to four 12.7mm machine-guns, and dive brakes were installed. These Breda Ba.88Ms were delivered to the 103° Gruppo Autonomo Tuffatori (independent dive-bombing group) at Lonate Pozzolo on 7 September 1943. They were flight-tested by Luftwaffe pilots, but that was the last heard of the Breda Ba.88 which represented, perhaps, the most remarkable failure of any operational aircraft to see service in World War II.[1]
Specification
Type: Fighter-bomber/reconnaissance aircraft
Powerplant: Two 1,000-hp (746-kW) Piaggio P.XI RCAO 14-cylinder radial piston engines
Performance: Maximum speed 304 mph (490 km/h); service ceiling 26,245 ft (8000 m); range 1,019 miles (1640 km)
Weights: Empty equipped 10,2511b (4650 kg); maximum take-off 14,8811b (6750 kg)
Dimensions: Span 51 ft 2 ¼ in (15.60 m); length 35 ft 4 ¾ in (10.79 m); height 10 ft 2 in (3.10 m); wing area 358.88 sq ft (33.34 m2)
Armament: Three fixed forward-firing 12.7-mm (0.5-in) Breda-SAFAT machine-guns in nose and one 7.7-mm (0.303-in) Breda-8AFAT machine-gun on trainable mounting in rear cockpit, plus up to 2,204 lb (1000 kg) of bombs in fuselage bomb-bay or, alternatively, three 441-lb (200-kg) bombs carried semi-exposed in individual recesses in the fuselage belly
Operators: Italian Regia Aeronautica and Aeronautica Nazionale Repubblicana.[2]
References
Community content is available under
CC-BY-SA
unless otherwise noted.