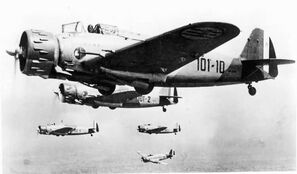 The Breda Ba. 65 was a ground-attack arcraft that was used by Italy during World War II. The Ba. 65 had a Fiat A80 RC 41 Engine[N 1]that was capable of propelling it at speeds of up to 430 km/h. It also had a crew of one or two men depending on what role it was to fulfill.
History
Design
Intended as the progenitor of an aeroplano di combattimento,[N 2] the low wing all metal cantilever monoplane Ba. 65 prototype was first flown in September 1935. The basic structure consisted of steel tubing covered with a skin of Dural, with fabric in some areas. The main units of the tailwheel undercarriage retracted into shallow fairings located towards the rear of the wing.[1]
Italian Service
In 1936 an initial order was placed for 81 single seat examples powered by 700 hp (522 Kw) Gnome Rhone 14K engines. 13 aircraft from this batch were assigned to 65a Squadrilia, Aviazione Legionaria, which served as the Italian air contingent supporting fascist forces during the Spanish Civil War. After operating at Santander in August 1937, 65a Squadrilia fought at Teruel and in battles for the river Ebro. The unit's experiences in Spain led to Italian Ba.65s serving with the Regia Aeronautica's two assault wings. By July 1939, a second series of Ba.65s, each powered by a single Fiat A.80 engine, had been produced, with six of these aircraft joining an additional four Gnome Rhone powered aircraft in Spain in 1938.[1]
Shortly after Italy entered World War II, the Ba.65 became involved in the fighting against British forces in North Africa, where it put up an unimpressive performance due to low serviceability, with the last operational example being lost in February 1941 during the British offensive in Cyrenaica. Many of the Ba.65s in Italian service were two seat biposto aircraft, with an observer/gunner behind the pilot equipped with a single 7.7mm machine gun. A few Ba.65 biposto aircraft were fitted with a Breda L turret in place of the open rear cockpit.[1]
Exports
A number of other countries also used the Ba.65. Iraq received 25 Fiat powered biposto examples in 1938 - a pair of dual control trainers, and 23 fitted with Breda L turrets, which saw limited action against British forces during 1940-1941. 1938 also saw the delivery of 20 examples with Piaggio P.XI C.40 engines - 17 single seaters and three dual trainers - to Chile. in November 1939, Portugal received 10 Fiat powered two seaters with Breda L turrets. [N 3]
References
Notes
↑ Multi role combat aircraft, intended to be capable of carrying out interceptor, fighter, light bomber, reconnaisance and attack missions.[1]
Sources
Community content is available under
CC-BY-SA
unless otherwise noted.