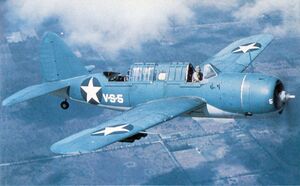 The SB2A Buccaneer (Brewster Model 340, and known as the Bermuda in British service) was a single-engine light bomber designed by the Brewster Aeronautical Corporation for use by the United States Military, particularly the Navy.
Description
The design was unsuccessful and never saw combat despite over 770 being built, and instead was relegated to training roles.[1]
History
The Buccaneer was developed from Brewster's earlier SBA bomber. Two XSB2A-1 prototypes - company designation B-140 - were ordered on 4 April 1939[2] and first flew on June 17, 1941.[1] Despite poor performances, 1,052 orders were placed for it by the United States, Great Britain, and the Netherlands.[N 1] Most were never used in active combat, and only 468 of the 750 Britain ordered were delivered. Also, the 162 ordered by the Netherlands were repossessed by the US Navy.[1] They were used as trainers and target-towing aircraft for the most part.[N 2]
Only two Buccaneers are known to have survived to the present day. One is on display at the National Naval Aviation Museum in Pensacola, Florida,[3] and the other is in storage at the Pima Air & Space Museum in Tucson, Arizona.[4]
Variants
XSB2A-1 [N 3] - Prototype, 2 ordered, 1 built.
SB2A-1 [N 4] - Variant made for Great Britain, 468 built. Delivered from July 1942 as the SB2A-1B Bermuda [N 5]
SB2A-2 [N 6] - First production model, 80 built
SB2A-3 - Carrier-borne variant with folding wings and arrestor cables, 60 built.
Data for Brewster SB2A Buccaneer
Type: naval scout bomber
Crew: 2: Pilot, gunner
Armament: two .50 cal machine guns in fuselage, two .30 cal machine guns in wing, two .30 cal machine guns in rear cockpit, up to 1,000 lb of bombs
Length: 39' 2" (11.94 m)
Height: 15' 5" (4.70 m)
Wingspan: 47' 0" (14.33 m)
Wing area: 379 sq. ft (35.21 sq. m)
Empty Weight: 9924 lb (4501 kg)
Max Weight: 14,289 lb (6481 kg) max at takeoff
Propulsion: One 1,200 hp Wright R-2600-8 Cyclone radial
Range: 1675 miles (2696 km) without bombload
Cruise Speed: 161 mph ( 259 km/h)
Max Speed: 274 mph ( 441 km/h) at 12000 ft
Ceiling: 24,900 ft (7590 m)[5]
References
Notes
Sources
↑ 2.0 2.1 2.2 2.3 2.4 2.5 2.6 2.7 2.8

World Aircraft Information Files Aviation Partwork. Midsummer Books Ltd. File 890 Card 84 (A-Z of Aircraft:B - Brewster B-38 (SBA and Navel Aircraft factory SBN) (Continued) to Bristol Boxkite
Community content is available under
CC-BY-SA
unless otherwise noted.