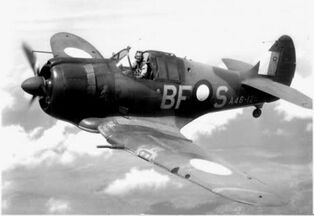 The CAC Boomerang was the first fighter to be designed in Australia.
History
Development
The Boomerang was developed by the Commonwealth Aircraft Corporation from the CAC Wirraway trainer as an answer to the possibility of Japanese invasion, and first flew on May 12th, 1942,[1] only 16 weeks and three days after the start of detail design work.[2] The type proved to be tough and outstandingly manoeuverable, which ensured it was not completely outclassed in air-to-air combat with Japanese aircraft.[3]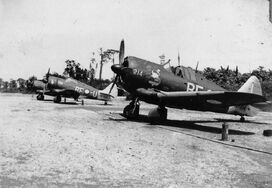 Operational Service
The Boomerang entered service with the RAAF's No 2 Operational Training Unit at Mildura, Victoria in October 1942,[4] with the RAAF Serial prefix A46.[5] before becoming operational with 84 Squadronn RAAF in April 1943. The Boomerang also replaced the Wirraway aircraft of 4 and 5 Squadrons in the Army Co-operation role.[4] As well as air-to-air combat, Boomerangs carried out close support missions, using their guns to mark targets for heavy aircraft.[3]
Variants
CA-12 AKA Boomerang Mk I - Initial version. 105 built
CA-13 AKA Boomerang Mk II - Follow on version with minor modifications. 95 built.
CA-14. Experimental version with Turbosupercharger and aerodynamic refinements. 1 built
CA-19. Final version, of which all but the first 10 examples carried a vertical camera for tactical reconnaissance. 49 built[5]
Specification
The Boomerang was powered by a single 1,200 hp Pratt & Whitney R-1830-S3C4G Twin Wasp radial engine. Measuring 25 ft 6 in (7.77 m) in length, with a wingspan of 36 ft 3 in (10 m)[6] and height of 9 ft 7 in (2.92 m).[5] Empty weight was 5,450 lbs (2,474 kg), with normal Loaded weight of 7,000 lbs (3,178 kg) and maximum overloaded weight of 7,600 lbs (3,450 kg). Max speed was 305 mph (491 km/h) at 15,500 ft (4,724 m), 302 mph (486 km/h) at 7,400 ft (2,255 m),[5] 296 mph (474 km/h) at 7,600 ft (2,320 m) and 273 mph (437 km/h) at sea level.[6] Cruising speed was 190 mph (306 km/h) at optimum altitude.[4] Max range was 930 miles (1,490 KM) at 190 mph (304 km/h) at 15,000 ft (4,575 m), and max endurance was 4.9 hours.[6] Initial climb rate was 2,940 ft (896 m) per minute, and service ceiling was 34,000 ft (10,365 m).[4] Armament consisted of two 20 mm cannons with 60 rounds per gun, and four 7.7 mm Browning M1919s.[7]
References
↑ Green, William and Gordon Swanborough. Complete Book of Fighters. Salamander Books. 2001. ISBN 1-84065-269-1 Page 113.
↑ 3.0 3.1 Gunston, Bill. Illustrated Directory of Fighting Aircraft of World War II. Salamander Books. 1988. ISBN 0-86101-390-5 Page 152
↑ 4.0 4.1 4.2 4.3

World Aircraft Information Files Aviation Partwork. Midsummer Books Ltd. File 891 Sheet 31: Commonwealth Aircraft Boomerang to Comper CLA.7 Swift

↑ 6.0 6.1 6.2 Gunston, Bill (Forward). Jane's Fighting Aircraft of World War II. Tiger Books. 1989. ISBN 1-85501-996-5. (Reprint of Jane's All The World's Aircraft 1945/1946. Bridgeman, Leonard (Editor). 1946). Page 148
↑

Green, William and Gordon Swanborough. 2001. Page 115.
Community content is available under
CC-BY-SA
unless otherwise noted.