The CANT Z.1007 Alcione (Kingfisher) was a Italian-made, tri-engined medium bomber used during World War II.
History
Development
A direct result of design studies began in 1935,[1] and derived from the twin float Z.506B, the Z.1007 prototype made its first flight in May 1937, powered by three 840 hp Isotta-Fraschini Asso inverted Vee liquid cooled engines[2] driving two bladed propellers.[3] The wooden aircraft received generally favorably reports from the test pilots and, following modifications, the type was put into production with CANT.[N 1]
Production examples designated Z.1007bis were powered by Piaggio P .XI RC.40 14 cylinder radial engines,[4] driving three bladed metal Piaggio propellers. The first 34 examples had annular radiators[1] Aircraft from the first half of the production run had a single tail fin, which was replaced with twin tail fins in order to provide a better field of fire for the rear gunner.[3][N 2]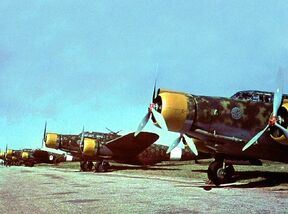 Operational Service
After entering service in 1939,[4] the Z.1007 first went into action when 5 aircraft from 172a Squadrigila Autonoma RST of the Corpo Aereo Italiano flew from Melsbroek, Belgium, to join 10 BR-20M aircraft of 43 Storma in a bombing attack against Harwich on November 11, 1940.[5]
On 8 June 1941 - the first day of the Allied invasion of the Levant - a Cant z.1007bis reconnaissance bomber of 211a Squadriglia was shot down by a pair of Tomahawks from 250 Squadron RAF, five miles north west of Alexandria.[6]
25 examples were among the bomber force available for assaults against Malta in early July 1941. By the time of the October 1942 assault against Malta, the three CANT Z.1007 equipped bomber groups available could only field 18 aircraft between them.[7] The Italian bomber force in North Africa included 25 CANT Z.1007bis aircraft.[8]
Specification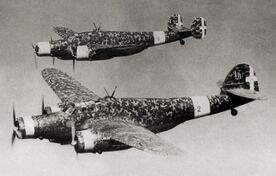 The Z.1007bis measured 60 ft 4 in (18.4 m) in length, 17 ft 1 1/2 in in height and had a wingspan of 81 ft 4 in (24.8 m). Empty weight was 19,000 lb (8,630 kg), and loaded weight varied between 28,260 lb (12,840 kg) and 30,029 lb (13,620 kg). Initial climb was 1,550 ft (472 m)/min, service ceiling was 26,500 ft (8,100 m), and range varied between 800 miles (1,280 km) with maximum bomb load and 3,100 miles (4,989 km) with maximum fuel.[4] The aircraft had a top speed of 285 mph. Armament consisted of two 12.7 mm machine guns and two 7.7 mm machine guns,[N 3] and a total of 4,900 lbs of bombs internally.[9]
References
Notes
↑ Single and twin fin aircraft would operate together in the same unit, with no distinguishing designation.[4]
Sources
↑ 1.0 1.1

World Aircraft Information Files - File 891 Sheet 8:CANT Z.1007 Alcione and Z.1015 to Caproni Ca 1, Ca 2, Ca 3 and Ca 5)

↑

Neulen, Hans Werner. 2000. Pages 34-35

↑

Guttman, Jon. 2000. Page 154

↑

Neulen, Hans Werner. 2000. Page 55

↑

Neulen, Hans Werner. 2000. Page 56
Bibliography
Aircraft of the World Card Collection. IMP Ltd. 1996-1998.
Gunston, Bill. Illustrated Directory of Fighting Aircraft of World War II. Salamander Books. 1988. ISBN 0-86101-390-5
Guttman, Jon. Fighting Firsts - Fighter Aircraft Combat Debuts fro 1914-1944. Cassell & Co. 2000. ISBN 1 85409 443 2
Neulen, Hans Werner. In the Skies of Europe - Air Forces allied to the Luftwaffe 1939-1945. The Crowood Press. 2000. ISBN 1-86126-326-0
World Aircraft Information Files Aviation Partwork. Midsummer Books Ltd.
Bomber Aircraft of the Regia Aeronautica

Dive Bombers
Light Bombers
Medium Bombers
Heavy Bombers
Patrol Bombers
Experimental Bombers
Community content is available under
CC-BY-SA
unless otherwise noted.