The Consolidated B-32 Dominator was a heavy bomber that was used by the United States during World War II. 
History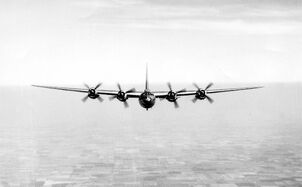 It was the last US aircraft built during the war to see combat. Ordered in September 1940, the B-32 was designed in tandem with the B-29 Superfortress - to the same Hemisphere Defence Weapon specifications - in case that aircraft failed.[2] A high wing monoplane of somewhat smaller size than the B-29, with retractable tricycle undercarriage, the first prototype made its initial flight on 7 September 1942, two weeks ahead of the XB-29. Known as the Consolidated Model 33 (XB-32),[1] the type had a smooth streamlined nose, like the one on the B-29, and twin fins like those on the B-24.[2] The second prototype, first flown on 2 July 1943, introduced a stepped pilot windscreen, while the third, first flown on 9 November 1943, was fitted with the single large fin of later B-24s. The layout for the third prototype was selected for the Model 34, which entered production as the B-24 Dominator.[1]
The heavy and complex armament was eventually replaced with manned turrets. This move was followed in 1943 by elimination of the troublesome pressurisation system, resulting in operations being restricted to a maximum altitude of 30,000 ft. This led to the delivery of operational B-24s being delayed until November 1944, by which time B-29s had been operating from forward bases in China for almost eight months.[1] As a result, only 115 of the large number ordered from Fort Worth and San Diego had been delivered by VJ Day,[2] Only seeing action with a few units against Japanese targets in 1945, 15 examples becoming operational with the 386th Bombardment Squadron at Okinawa. A pair of B-32s were involved in the last aerial combat of World War II, when they were attacked by 14 Japanese fighters while conducting a photo-reconnaissance mission over Tokyo on 18 August 1945. The action resulted in the destruction of at least two - possibly four - Japanese fighters. One B-32 crewman was killed, and another two were wounded.[1]
Some 40 examples of a TB-32 training aircraft were also produced, but both versions were quickly withdrawn from service following the end of World War II.[1] None were preserved.
References
↑ 1.0 1.1 1.2 1.3 1.4 1.5

World Aircraft Information Files Aviation Partwork. Midsummer Books Ltd. File 891 Sheet 36:A-Z of Aircraft - Consolidated Model 32 (B-24 Liberator) (continued) to Consolidated Model 39 Liberator-Liner (R2Y)

↑ 2.0 2.1 2.2 2.3 Gunston, Bill. Illustrated Directory of Fighting Aircraft of World War II. Salamander Books. 1988. ISBN 0-86101-390-5 Pages 364-365
Community content is available under
CC-BY-SA
unless otherwise noted.