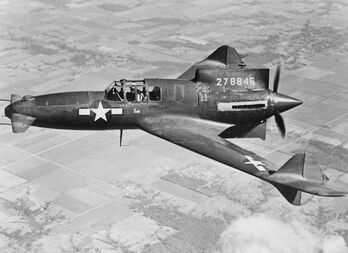 The Curtiss-Wright XP-55 Ascender was an experimental American fighter. 
History
The XP-55 came about as a result of the 1939 USAAC proposal R-40C, which called for a new high-performance fighter and spawned several other unusual designs, including the XP-54 Swoose Goose and the XP-56 Black Bullet.[1] Curtiss-Wright's design originally used an experimental Pratt & Whitney X-1800 engine, but after development issues brought the project to a halt, it instead used a more conventional Allison V-1710. The first Ascender prototype made its maiden flight on 19 July 1943. Just two more would be built before the cancellation of the XP-55's development due the aircraft stalling a number of times. This trait caused the crash of the first prototype,[1] which was lost during stall trials on 15th November 1943. The second prototype first flew on 9th January 1944, with the third following on 25th April. The latter example featured extended wingtips with 'trailerons' and increased elevator travel limits.[N 1]
Testing revealed that the XP-55 had a tendency to over control at low speeds. In addition, stall behavior was unconventional and undesirable, and engine cooling was critical. This led to the conclusion that the unorthodox configuration did not justify further development.[2]
The only surviving XP-55 is owned by the National Air and Space Museum, and is currently on long-term loan to the Air Zoo museum in Michigan.[3]
Specifications
Powerplant: 1 Allison V-1710-95 V12 engine
Top speed: 390 mph (628 km/h) at 19,300 ft (5,885 m)
Range: 635 miles (1,022 km) at 296 mph (426 km/h)
Crew: 1
Empty weight: 6,354 lbs (2,882 kg)
Normal loaded weight: 7,330 lb (3,225 kg)
Length: 29 ft 7 in (9.02 m)
Height: 10 ft 0 3/4 in (3.07 m)
Wingspan: 44 ft 0 1/2 in (13.42 m)
Armament: 4 12.7 mm machine guns in the nose.[2]
Ceiling: 34,499 ft
References
Notes
Sources
Community content is available under
CC-BY-SA
unless otherwise noted.