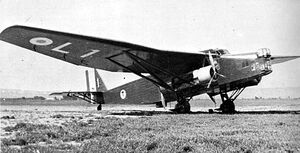 The Farman F222 was one of a series of French bomber[N 1] types in service during the early years of World War II.
History
Development
The F222 was a retractable undercarriage bomber development of the F221 troop transport. Like the rest of the series, the F222 was fitted with strut mounted push/pull double nacelles containing a quartet of engines. The standard F222 had 860 hp GR14Kbrs radials, while the F222/2 had four 950 hp GR14N 11/15 or Kirs radials.[3]
Testing
The first of the Farman Bomber series with retractable undercarriage, the F222 made its first flight in June 1935, with the F222/2 following in October 1937.[3]
Production and service
Following the F.222 prototype, 11 F.222/1 aircraft were built with increased fuel capacity between April 1936 and October 1937. These were followed by two batches - of 8 and 16 aircraft - of the F.222/2, which differed from the F.222/1 by having redesigned nose sections to improve pilot view, and dihedral on the outer wing panels. By the start of 1938 there were 18 F.221 and F.222/2 aircraft in service, and these were joined by all the F.222/2s by the end of July 1938.[2]
36 F222 aircraft were used for bombing missions in early 1040 with GBI/15 and GBII/15, [3] while three F.222s with additional fuel were transferred to the newly formed Escadrille 10E of the French Navy for long range maritime patrol and bombing.[2]
Following the June 1940 Armistice, The Farman unit Grouperment 15 was reformed as a transport group. Equipped with two F.221s, two F.222/1s and six F.222/2s, the unit served the Vichy regime by transferring units of the Armee de l'Air de l'Armistice to and from Syria.[2]
Specification
The aircraft had a wingspan of 118 ft 1 1/2 in (36 m), measured 70 ft 8 3/4 in in legnth and was 16 ft 9 in high. Empty weight was 23,122 lb (10,488 kg), while loaded weight was 41,226 lb (18,700 kg). Max Speed was 199 mph (320 km/h), service ceiling was 26,250 ft (8,000 m), and range with max bomb load was 1,240 miles (2,000 km). Armament consisted of three manually aimed 7.5 mm MAC 1934 machine guns in nose, dorsal and ventral positions, together with normal bomb load of 5,510 lb or max load of 9,240 lb (4,190 kg).[N 2]
References
Notes
Sources
↑ 2.0 2.1 2.2 2.3

World Aircraft information Files File 894 Sheet 16 (A-Z of Aircraft:Farman F.190 Series to Farman NC.223)
Bibliography
Gunston, Bill. Illustrated Directory of Fighting Aircraft of World War II. Salamander Books. 1988. ISBN 0-86101-390-5
World Aircraft Information Files Aviation Partwork. Midsummer Books Ltd.
Community content is available under
CC-BY-SA
unless otherwise noted.