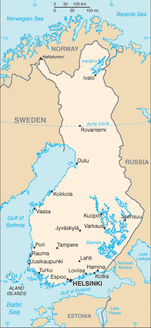 Finland is a country in Fennoscandia, in northern Europe. The official language is Finnish and the terrain is forested and usually frozen over in the winter.
Siege of Leningrad
A reluctant ally of Germany, Finland was coerced into participating in the Siege of Leningrad, but their involvement was limited to a crossing of the river Svir, leading to Finnish troops establishing positions around Lake Ladoga.[1]
References
↑ War Machine issue 6 - Sub-machine guns of World War II
Nations of the Axis during World War II
Primary Nations
Secondary Nations
Puppet States
Community content is available under
CC-BY-SA
unless otherwise noted.