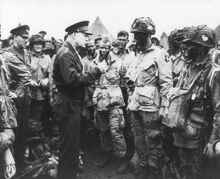 The M1942 jump suit consisted of a specially designed coat and set of trousers. One of the designers was (later) Lt. General William Yarborough, who also designed the American Airborne's Jump Wings and one of the pioneers in the American Airborne movement.
The jacket was tailored in cotton poplin with sharply tailored sides and normally had four cargo pockets that had flaps which could be snapped open or closed. The breast pockets were at a slight angle. This was to allow access to the pockets when a trooper was wearing their field equipment. A 1-3/4 wide belt was fixed at the center of the back and passed through a loop on either side at the waist. The jacket was made to provide a certain amount of water resistance and wind proofing. The color was normally olive drab although this tended to fade after several washings. The trousers were made of the same material and had loops for a belt to be worn around the waist. It had four pockets (two on the front two on the back) as well as two large expandable cargo pockets sealed with a flap on the outside of each thigh.
There were variants on this design, often made by an airborne unit's riggers. These included leg ties to help keep the items in the thigh cargo pockets secured, reinforcement of the knees and elbows, and the addition of extra cargo pockets, notably on the shoulders of the arms or on the back portion of the jacket below the waist belt.
Troopers were not always issued this uniform, such as units of the 11th Airborne after it was deployed in the Pacific, and it was replaced in the summer of 1944 with a modified version of the US Army's M1943 uniform, although given the vagaries of the supply system and individual initiative, remained in use throughout much of the rest of the war. Glider Infantry toops were not normally issued this uniform.
References
America's Finest: US Airborne Uniforms, Equipment, and Insignia of World War Two (ETO). Gary Howard, Greenhill Books 1994
Paratrooper!: The Saga of U.S. Army and Marine Parachute and Glider Combat Troops During World War II. Gerard M. Devlin, St Martins Press 1979
The Way We Were – The Band of Brothers – Cpl. Forrest Guth. Michael De Trez, D-Day Publishing, Belgium 1994
Community content is available under
CC-BY-SA
unless otherwise noted.