The M3 Light Howitzer (105mm) was designed for paratroops. It used a modified M2 Howitzer (105mm) barrel.[1] It also had a recoil system from the 75mm field pack howitzer. It was first tested in March of 1942 at Aberdeen Proving Ground in Maryland. It was first used in combat in Normandy in June 1944. 2,580 were built from February 1943 to June 1945.[2]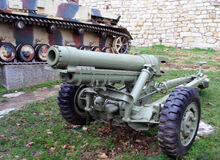 Community content is available under
CC-BY-SA
unless otherwise noted.