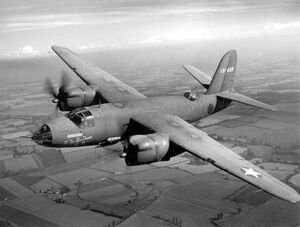 The B-26 Marauder (Martin Model 179) was a twin-engine medium bomber used by the United States of America and her allies.
History
Development
The Model 179 was developed in response to a USAAC specification issued on January 25, 1939 as part of the United States Army Medium bomber competition. This called for a fast medium bomber with a maximum speed of 350 mph, range in excess of 2,000 miles, service ceiling over 20,000 ft, five crew, comparatively heavy defensive armament of four machine guns and a heavy bomb load.[2]
Following completion of details design work by June 1939, the Model 179 was submitted to the Wright Field Board on July 5, 1939. It's clear advantages over its rivals, including a production schedule that promised delivery in a remarkably short time,[3] resulted in the Martin Model 179 being declared the winning entry, with two-hundred and one examples ordered 'off the drawing board' as the B-26.[4] The first example, serial number 40-1361, made its initial flight on 25 November 1940, in the hands of Chief Engineer and Test Pilot William K. Ebel. The flight testing showed little need for modification, primarily limited to reversal of travel direction of the rudder trim tabs, due to a slight rudder overbalance.[3]
Service
The B-26 first entered service with the 22nd Bombardment Group which, due to difficulties and accidents experienced during the transition period, was the only unit equipped with the B-26 at the time of the Bombing of Pearl Harbor.[5]
References
Notes
Sources
↑

Green, William. Famous Bombers of the Second World War. Purnell Book Services. 1975. Page 193.

↑ Gunston, Bill. The Illustrated Directory of Fighting Aircraft of World War II. Salamander Books Ltd. 1988. ISBN 0 86101 390 5 Page 420
↑

Green, William - Bombers. Page 195.