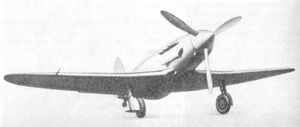 The Mikoyan-Gurevich MiG-1 was the first design to achieve production status from the OKB (Experimental Construction Bureau) headed by Artem I Mikoyan and Mikhail Y Gurevich (the acronym 'MiG' being derived from their two names). The type was later succeeded by an extensively modified version known as the MiG-3.
History
conceived as a high-altitude interceptor under the OKB's Izdeliya (Product) designation Kh, and also assigned the initial military designation I-200,[2] the MiG-1 was developed in response to an urgent call for a high altitude interceptor, made at a meeting at the Kremlin in January 1939 which had been attended by Josef Stalin. To meet the requirement, Artem Mikoyan and Mikhail Gurevich, designers at the Polikarpov OKB (Experimental Design Bureau), quickly began work on Project K, a new fighter with a Mikulin AM-37 engine and projected top speed of 417 mph (670 km/h).
By the time permission to proceed with production was granted in November, Polikarpov had fallen out of favour with the hierarchy, leading to Mikoyan and Gurevich being granted their own OKB. Work on the new aircraft proceeded quickly, allowing the first aircraft, now designated I-200, to make it's initial flight on 5 April 1940, over a week before the mid April deadline. Powered by a 1,350 hp (1,007 kW) AM-35A, due to delays in development of the AM-37, the I-200 was able to set a new Soviet speed record of 403 mph (649 kn/h) at 22,127 ft (6,900 m), within eight weeks of the first flight.[3]
Ordered into production as the MiG-1, the type displayed a number of shortcomings, including instability, short range and vulnerability to damage in combat. This resulted in production being limited to about 100 examples, the last of which were delivered in December 1940. The first eight were fitted with side hinging canopies, while the rest has aft sliding units. The first MiG-1s were delivered during April 1941,[2] by whioch time they had already been replaced on the production line by modified aircraft designated MiG-3.[4]
References
↑ 2.0 2.1 Green, William and Gordon Swanborough. Complete Book of Fighters. Salamander Books. 2001. ISBN 1-84065-269-1 Page 385
↑

World Aircraft Information Files Aviation Partwork. Midsummer Books Ltd. File 205 Sheet 1 (Mikoyan-Gurevich MiG-1/MiG-3: A dynasty is founded)

↑

World Aircraft Information Files. File 901 Sheet 18 (A-Z of Aircraft:M - Meyers OTW to Mikoyan-Gurevich MiG-15 'Fagot')
Community content is available under
CC-BY-SA
unless otherwise noted.