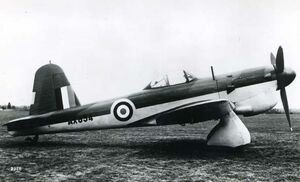 The Miles M.20 was a single seat fighter designed by Walter Capley in 1940 (to specification F19/40[1]) for use by Great Britain during World War II.
Description
It had a liquid-cooled Merlin XX engine capable of propelling the M.20 at speeds of up to 536 km/h at 6,280 meters. The plywood and fabric M.20 had a wingspan of 10.54 meters, measured 9.17 meters in length and weighed about 3,519 kg fully loaded. The design utilised standard Master parts, fixed landing gear and a 'blister' type cockpit canopy – one of the first to be provided for a fighter aircraft.
The M.20's armament consisted of either eight or twelve Browning 7.7mm machine guns. The M.20 was slightly slower than the Spitfire Mk1, and faster than the Hurricane Mk1, and had greater range,[2] with a normal range of 885 km.[1] It could also carry more ammunition – 5,000 rounds compared to 2,400 for the Spitfire or Hurricane.[3] Still, the M.20 was built simplistically and was made to be produced in large numbers. The service ceiling of the M.20 was about 10,000 meters and the rate of climb was 677 meters per second.[4][N 1]
History
The M.20 was developed at a time when Great Britain was faced with a shortage of fighters to meet the full strength of the Luftwaffe, based in France and the Low Countries. The type was designed to fill the gap in British fighter production should it increase due to German bombing. The series was discontinued after the German bombing raids because they were no longer needed. Neither one of the two prototypes saw any combat.
Prototypes
The initial prototype U9[N 2] made its first flight on September 15, 1940,[1] just nine weeks and two days after authority to proceed with the design and construction was received from the Ministry of Aircraft Production, thanks in part to the development of the Merlin XX 'Power-Egg' for the Beaufighter Mk II,[2] [N 3] Second prototype U0228[N 4] was produced as a fleet fighter (to Specification N1/41), equipped with catapult points and jettisonable undercarriage for operation from CAM-Ships, but following tests during 1941-42, the type was not developed further.[1] Both prototypes were scrapped.
References
Notes
Sources
↑ 1.0 1.1 1.2 1.3 Green, William and Gordon Swanborough. Complete Book of Fighters - Revised Edition. Salamander Books Ltd. (2001), Page 406. ISBN 0 84065 269 1
↑

Brown, Eric Melrose. 1987

↑

Take Off Magazine, issue 20 (1993)
Bibliography
Brown, Eric Melrose. Wings of the Weird and Wonderful Volume 1. Tab Books. 1987
Green, William and Gordon Swanborough. Complete Book of Fighters. Salamander Books. 2001. ISBN 1-84065-269-1
Gunston, Bill (Forward). Jane's Fighting Aircraft of World War II. Tiger Books. 1989. ISBN 1-85501-996-5. (Reprint of Jane's All The World's Aircraft 1945/1946. Bridgeman, Leonard (Editor). 1946).
Robertson, Bruce. British Military Aircraft Serials 1912-1966. Ian Allen Ltd. 1967
Community content is available under
CC-BY-SA
unless otherwise noted.