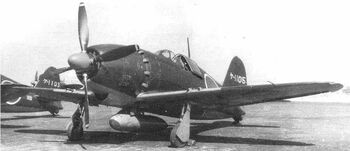 The Mitsubishi J2M Raiden (Allied reporting name: "Jack") was a Japanese single engine fighter aircraft used during World War II. It was used to counter enemy bombing raids.
History
The J2M was designed by Jiro Hirikoshi in 1939. 14 prototypes were built by February, 1942, and it first flew on March  20th, 1942.[1] However, due to engine problems that had to be fixed, the Raiden didn't enter service until late 1943, and didn't see combat until 1944. 
The J2M was used as a land-based interceptor to counteract the Allied bombings of the Japanese islands. It was highly effective against the B-29 Superfortress with its 20 mm cannons and high climbing speed. Several were also deployed to the Philippines. A total of 476 were built, but that wasn't enough to stop the attacks against the Japanese Empire. The J2M was retired in August, 1945, after a cease fire between Allied and Japanese forces.[1] A few were captured by British and American forces, and only one - J2M3 serial 3014, captured by US forces at Atsugi[2] - has survived to the present day. It is currently on display at the Planes of Fame Museum in Chino, California,[3] in the markings of the 302nd Kokutai.[2]
Variants
J2M1: Prototype, also known as the M-20
J2M2: J2M1 re-designed with deeper canopy and new engine with multiple stack exhaust and four blade propeller. Two type 99 20 mm cannon in wings, two 7.7 mm machine guns in fuselage. 155 delivered.
J2M3: J2M2 with machine guns removed and two fast firing Type 99-II cannon supplementing the original Type 99s in wings.
J2M3a: J2M3 with four Type 99-II cannon.
J2M4: High flying versions with turbocharged engine. Limited production.
J2M5: version with only 2 wing cannon.
J2M6: J2M3 with bulged canopy.
J2M6a: J2M3a with bulged canopy.[4]
Specifications (J2M3)
Powerplant: 1 Kasei Model 23 engine
Top speed: 379 mph
Range: 575 miles
Ceiling: 38,385 ft
Crew: 1
Empty weight: 5,423 lbs
Length: 32 ft 7 in
Height: 12 ft 11 in
Wingspan: 35 ft 5 in
Armament: four Type 99 20 mm cannons, two 132 lb bombs
References
↑ Gunston, Bill. Illustrated Directory of Fighting Aircraft of World War II. Salamander Books. 1988. ISBN 0-86101-390-5 Pages 290-291
Fighter Aircraft of Imperial Japanese Air Forces

Single-Engine Fighters
Night Fighters
Twin-Engine Fighters
Seaplanes
Experimental Fighters
Community content is available under
CC-BY-SA
unless otherwise noted.