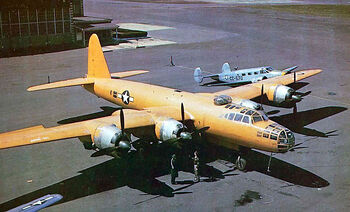 The Nakajima G8N Renzan was a Japanese four engine heavy bomber employed late in the war.
History
The G8N came about after the failure of the G5N Shinzan. Nakajima was requested to create a new heavy bomber by the Imperial Japanese Navy in February 1943.[1] The first example was completed in late 1944, and first flew on 23 October of that year. 64 were planned to be produced, but only 4 were completed before the project was cancelled due to lack of materials. Captured examples were later tested by the United States and found to have good performance.[1]
As only four G8Ns were built, there were no variants.
Specifications
Powerplant: Four Nakajima NK9K-L Homare 24 engines
Top speed: 368 mph
Range: 4,639 miles
Ceiling: 33,465 ft
Crew: 10
Empty weight: 38,400 lbs
Length: 75 ft 3 in
Height: 23 ft 7 in
Wingspan: 106 ft 9 in
Armament: Six 20 mm cannons, four machine guns, 4,000 kg (8,818 lbs) of bombs.
References
Bomber and Assault Aircraft of Imperial Japanese Air Forces

Single-Engine
Twin-Engine
Seaplanes
Four Engine
Experimental

Nakajima G8N
Community content is available under
CC-BY-SA
unless otherwise noted.