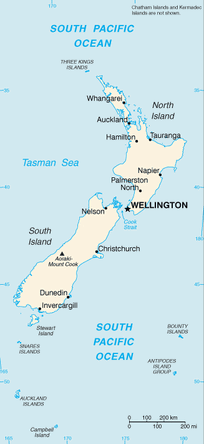 New Zealand joined Australia, France, India, and Great Britain in declaring war on Germany at 2130 hours on 3 September 1939. Politically, New Zealand had been a vocal opponent of European fascism, and also the appeasement of those dictatorships, meaning national sentiment for a strong show of force was generally supported. New Zealand contributed forces in the Crete, North African, Italian and Pacific theatres.
Economic and defensive considerations also motivated the New Zealand involvement; reliance on Britain meant that if she were threatened, New Zealand would be too, in terms of economic and defensive ties.There was a very strong sentimental link between the former British colony and the United Kingdom, with many seeing Britain as the "mother country" or "Home". The New Zealand Prime Minister of the time Michael Joseph Savage summed this up at the outbreak of war with a quote broadcasted over the radio that would become a popular cry in New Zealand during the war:
"It is with gratitude in the past, and with confidence in the future, that we range ourselves without fear beside Britain, where she goes, we go! Where she stands, we stand!"
New Zealand made a deal with the United States of America to have US troops stationed there temporarily in exchange for leaving New Zealand's troops fighting abroad in North Africa and later, Italy. New Zealand's strong economic placing led it to supply much needed food supplies to Britain during and after the war.
The New Zealand government placed the Royal New Zealand Navy at the British Admiralty's disposal in addition to donating 30 new Wellington medium bombers to the RAF. New Zealand provided personnel for service in the Royal Air Force and in the Royal Navy. New Zealand was prepared to have New Zealanders serving under British command. RNZAF pilots, many trained in the Empire Air Training Scheme, were sent to Europe. But unlike the other Dominions, New Zealand did not insist on its aircrews serving with RNZAF squadrons, so speeding up the rate at which they entered service.
One of the earliest engagements by New Zealand forces was New Zealand naval cruisers chasing the German Pocket Pattleship Graf Spee to the neutral port of Montevideo in the Battle of the River Plate.
References
Community content is available under
CC-BY-SA
unless otherwise noted.