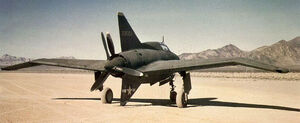 One of the most radical of US experimental fighters of World War II, the Northrop XP-56 was conceived as the result of an informal 1938 competition for innovative fighter designs.
Description
The XP-56 was a tailless pusher of welded magnesium construction. Power was provided by a 2,000 hp Pratt & Whitney R-2800-29 Double Wasp 18 cylinder radial in the rear fuselage,[N 1] driving contra rotating pusher propellers. Proposed armament consisted of two 20mm cannon and four 12.7mm (.50) machine guns in the nose.[3] The aircraft was fitted with tricycle undercarriage, with the steerable nose-wheel mounted on a tall nose strut.[4] According to the manufacturer's estimates, the XP-56 would have been capable of reaching 671 km/h at sea level and 748 km/h at 7,620 meters, and had a range of 1,062 km, while taking 7.2 minutes to reach 6,100 meters. The empty weight was 3,946 kg and design loaded weight was 5,148 kg. The XP-56 had a wingspan of about 12.98 meters, length of 8.38 meters and height of 2.94 meters. The wing area was 28.52 square meters.[3]
Testing
Two prototypes of the XP-56 were ordered, the first on 26 September 1940, the second on 13 February 1942. The first two flights were conducted on 6 September 1943, after which the area of the dorsal fin was increased before testing resumed on 8 October, when the aircraft was written off in a landing accident on the second flight that day. The second prototype first flew on 23 March 1944, and differed from the first prototype by having split flap wingtip rudders and increased dorsal fin area. Low speed flight revealed lateral instability and control reversal. In addition the engine's inability to deliver full power prevented the aircraft reaching high speeds. The USAAF discontinued development after the 10th flight, having concluded that further flight testing was too hazardous.[3]
References
Notes
Sources
↑ White, Graham. R-2800 - Pratt & Whitney's Dependable Masterpiece. Airlife Publishing Ltd. 2001. ISBN 1 84037 355 0 Page 538
↑ 3.0 3.1 3.2 Green, William and Gordon Swanborough. Complete Book of Fighters. Salamander Books. 2001. ISBN 1-84065-269-1 Page 455
↑

Aircraft of the World Card Collection. IMP Ltd. 1996-1998. Group 16 Card 40 (X Planes: Flying Wings)
Community content is available under
CC-BY-SA
unless otherwise noted.