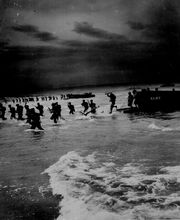 Operation Torch was the American and British invasion of French North Africa in November 1942.
Prelude
The Soviet Union had been demanding the Allies to open a new front against the Germans. This was to lighten the offensive by the German troops on the Eastern Front against the Russians. American commanders believed that the Allies should land in Europe as soon as possible, while the British believed such an attack would end in failure and an attack on North Africa was proposed instead, as a middle pathway. The battle would involve the use of 3 task forces to seize key points in North Africa, thus denying Germany control of the African west coast, while providing the Allies with a base for an assault on southern Europe.[1]
Landing sites for the operation were named on September 5th 1942. These were Algiers and Oran in Algeria, and Casablanca in Morocco.[2] General Eisenhower took command of planning for the operation on September 13th.[3]
As a result of Vichy distrust towards the British after the attacks against French ships based in Africa,[4] and the assumption that the Americans were more likely to be welcomed by the French,[1] it was decided that US insignia should be applied to all Allied aircraft taking part, such as the Sea Hurricanes of 800 Sqn of the Fleet Air Arm.[5] This also resulted in the US Regimental Combat Team landing at Oran being issued with special fireworks. These egg shaped bombs were fired 200 ft into the air, where they would explode into a 100 ft wide display of the Stars and Stripes. In addition, French speaking GIs were issued with loudspeakers, so their shouts of 'Ne tirez pas! Vive la France!' could be heard over the sounds of battle.[1]
The Landings
The actual landings took place on November 8th, with Algiers coming under Allied control by nightfall. Resistance at Oran was stiff, while one force assigned to land at Casablanca managed to establish a beachhead despite losing 242 landing boats - 64 percent of the number dispatched. On the same day, General De Gaulle called on all Frenchmen in North Africa to aid the Allies, describing the area as a jumping off ground for the liberation of France, while a joint US-British declaration described Torch as the first step in the ousting of the German occupation forces. Vichy France responded by breaking diplomatic relations with the US, due to the involvement of American troops in the operation.[1]
The first three days of fighting cost the French sustained 3,000 casualties, and the Allies 2,225.[6]
Gallery
References
Community content is available under
CC-BY-SA
unless otherwise noted.