The PZL 37 Łoś (Moose or Elk) was a Polish twin-engine medium bomber.
History
Designed in 1934 at the PZL factory in Warsaw by a team led by Jerzy Dąbrowski, the aircraft made its first flight in June 1936, and was extraordinarily efficient in its ratio of empty to gross weight. By the time of its entry into service in 1938, the type's dramatic performance had generated a great deal of international interest which, but for the declaration of war, would have allowed PZL to fulfill export contracts to at least five, and possibly nine, countries.[2]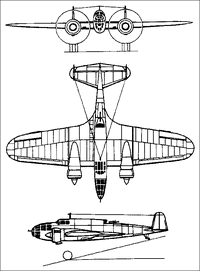 The subject of unwarranted political criticism from the Army, whose chiefs used every means to stop production and disrupt training, about 100 examples of the PZL-37 Łoś were delivered before the war, with a further 12 readied during the Poland campaign. These deliveries allowed the Bomber Brigade to form four Dyons (Squadrons) - 211, 212, 216 and 217 - with 9 aircraft each, which were able to complete initial training by the start of World War II, proving very effective during the few days they were able to operate.
Following the defeat of Poland, some 40 A and B models escaped to Romania, who used them against the Soviet Union in 1941.[2]
References
Notes
Sources
Community content is available under
CC-BY-SA
unless otherwise noted.