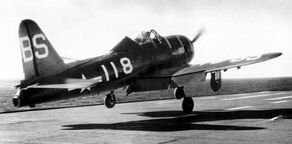 The Ryan FR-1 Fireball was a single-seat experimental aircraft that was developed by the United States during World War II.
Description
The FR-1 was powered by a 1,425 hp (1,063 kW) Wright R-1820-72W Cyclone Radial piston engine and one 1,600 lb (7.12 kN) Thrust General Electric J31 turbojet. The aircraft had a maximum both engine speed of 426 mpg (686 km/h) at 18,100 ft (5,515 m), a service ceiling of 43,100 ft (13,135 m) and range of 1,030 miles (1.658 km). Empty weight was 7,915 lb (3,590 kg) and max take off weight was 10,595 lb (4,806 kg). The wingspan measured 40 ft (12.19 m), with a length of 32 ft 4 in (9.86 m) and height of 13 ft 7 3/4 in (4.15 m). Wing area was 275 sq ft (25.55 sq m). Armament consisted of four wing mounted 0.5 in (12.7 mm ) machine guns and up to 1,000 lb (454 kg) of bombs or eight 5 in (127 mm) rockets.[1]
History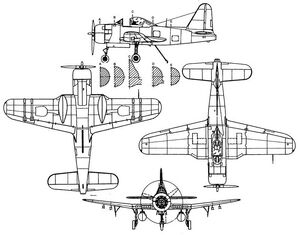 In 1942 the US Navy drew up an unusual specification for a carrier based fighter-bomber, to be powered by one of the new turbojet engines in the rear fuselage, and a piston engine mounted conventionally in the nose – the latter was seen as the ideal Powerplant for landing and long range cruise, or to supplement the turbojet in high speed flight. The piston engine was also seen as a useful insurance against failure of the more or less infant turbojet. Ryan's design proposal was selected as the most realistic submission, gaining an order for three XFR-1 prototypes and 100 production FR-1 aircraft, later named Fireball. The first of the prototypes made its initial flight – without the turbojet – on 25 June 1944, the first flight with both engines in operation being made the following month. Deliveries of production FR-1s began in March 1945, initially equipping VF-66. By this point Ryan had received contracts for a total of 1,300 production aircraft. However, VJ-Day cancellations limited total production to only 66 FR-1s, none of which saw operational service in World War II, the aircraft being extensively used for carrier trials before being phased out of service in late 1947.
References
↑

World Aircraft Information Files Aviation Partwork. Midsummer Books Ltd. File 906 Sheet 6 (A-Z of Aircraft:R - Royal Aircraft Factory S.E.5 and S.E.5a to Ryan S-T, ST and PT Series)
Community content is available under
CC-BY-SA
unless otherwise noted.