The SdKfz 6 was a half-track that was utilized by the German Wehrmacht during World War II.
Description
The weight was about 8,700 kg (19,180 lb) and the length was 5.99 meters (19' 8"). The SdKfz also had a 115 hp, Maybach HL 54TUKRM engine capable of moving it at speeds of up to 50 km/h (31 mph).
The SdKfz 6 could carry fifteen including the driver and it the only armament it had were the weapons carried by passengers. It also had a torsion bar suspension system and a 4x2 speed forward, 1x2 speed backwards transmission.[1] There was no armor protection on the SdKfz 6 and the range of the SdKfz 6 was about 300 km. The cross country performance was fair as was reliability, but like so many other designs, it suffered in the harsh conditions of the battlefield.
Variants
The SdKfz 6/2 was an artillery version of the SdKfz 6 like the other variant. It fielded a 37 mm FlaK 36 main gun and it had a crew of seven. The weight was 10,400 kg and the length was about 6.5 meters. Like the SdKfz 6, the SdKfz 6/2 had a top speed of about 50 km/h and it could carry around 190 liters of gasoline. The SdKfz 6/3 nicknamed "Diana" had a captured Soviet M1936 Field Gun. [2]
The gun was redesignated the FK 36(r) or the PaK 36(r). The weight of the SdKfz 6/3 varied slightly depending on the time of production, but early models were about 10,500 kg. The length of the SdKfz 6/3 was about 6.1 meters and the armor was about 5 mm for early models. The crew was about five to six men and the carrying capacity was about one hundred 76.2 mm rounds.
History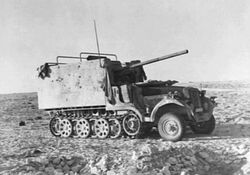 The SdKfz 6 was first produced in 1935 and they were still in use by 1945. The main manufacturers were Daimler Benz, BMM, and Büssing-NAG. The SdKfz 6 was used to carry troops, carry cargo, and tow guns. The main problem with the SdKfz 6 was that it was expensive to produce and that it is why other half-tracks were used more often. Even so, the SdKfz 6 and its variants were used in many places by German forces and by the end of WWII, around 2,200 were made. The SdKfz 6/2 was produced up to 1943 when it was replaced by the SdKfz 7/2. The SdKfz 6/2s that were produced went to luftwaffe units. The SdKfz 6/3 units all went to serve in North Africa, but only 9 vehicles were actually converted.
References
Half-Tracks of the Wehrmacht