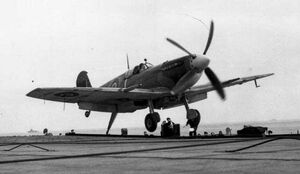 The Supermarine Seafire was the carrier-based counterpart of the Supermarine Spitfire.
History
Development
Supermarine first responded to Admiralty interest in a carrier capable version of the Spitfire, complete with arrester hook and folding wings, in January 1940 but, due to RAF requests for Spitfires taking precedence, the first 'Hooked Spitfire' - a modified Spitfire VB - did not take to the air until January 7th 1942.[2] This aircraft was then used by Commander P. H. Bramwell for a series of deck landing trials aboard the carrier HMS Illustrious, which led to an order for a batch of forty eight Seafire IBs,[N 1] produced through the conversion of existing Spitfire VB airframes by Air Service Training Ltd at Hamble.[3]
Variants
IB: Navalised Spitfire VB. 1,415hp Merlin 46. Fixed wings. 166 examples.
IIC: Equivalent to Spitfire VC, with catapult spools, strengthened landing gear and universal wing. 1,645hp Merlin 32 with four bladed propeller. Production: 262 by Supermarine, 110 by Westland.
III: Version with manual double fold wing. 1,585hp Marlin 55M. Production: 870 Westland, 350 Cunliffe-Owen.
XV (later F.15): 1,850hp Griffon VI, four bladed propeller and asymmetric radiators.[N 2] 390 produced.
XVII (later F.17): Increased fuel and cut down fuselage with bubble hood.232 produced.[N 3]
45: New aircraft corresponding to Spitfire 21. Griffon 61 with 5 blade propeller or Griffon 85 with contraprop. Fixed wing with four 20mm cannon. 50 produced.
46: Bubble hood like Spitfire 22. 24 produced.
47: Navilised Spitfire 24 with hydraulic folding wings, carb air intake behind propeller and increased fuel. 140 produced.[4]
References
Notes
↑

Cross between Seafire III and Spitfire XII

↑

Production cut back due to the end of the war.
Sources
↑ Green, William and Gordon Swanborough. Complete Book of Fighters. Salamander Books. 2001. ISBN 1-84065-269-1 Page 560
↑ 3.0 3.1

Green, William. Famous Fighters of the Second World War. Purnell Book Services. 1975. Page 137

↑ Gunston, Bill. Illustrated Directory of Fighting Aircraft of World War II. Salamander Books. 1988. ISBN 0-86101-390-5 Page 59
Community content is available under
CC-BY-SA
unless otherwise noted.