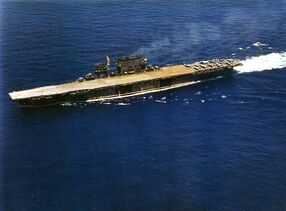 The USS Saratoga (CV-3) was a Lexington class aircraft carrier. It was the sister ship of the USS Lexington. The USS Saratoga served in the Pacific War, and also helped British Forces who also were in the Pacific War. Some of the important battles that Saratoga was in, were the Battle of Guadalcanal and the Battle of Iwo Jima.
History
The USS Saratoga was originally authorized as a Lexington class battlecruiser in 1917, however, like its sister ship, Saratoga's construction was suspended because of the Washington Naval Treaty. Saratoga was redesignated and reclassified as an aircraft carrier. Saratoga was launched on April 7th, 1925 and was commissioned on November 16th, 1927, a month before her sister ship was commissioned. Saratoga was one of the first fast carriers in the US Navy. 
Saratoga ferried Marine and Army aircraft to the garrison on Midway Island, and provided cover for landing rehearsals in the Fiji Islands for the preparation for the Battle of Guadalcanal. Saratoga began the Battle of Guadalcanal on August 7th, 1942.[1]
References
Community content is available under
CC-BY-SA
unless otherwise noted.