The United States Navy (abbreviated USN stylised as U.S.N.) is the naval warfare branch of the United States military.
History
Established in 1797, the US Navy is still active as of today. During World War II, the US Navy became one of the largest in the world, requiring ships in both the Atlantic and Pacific Oceans. During the war, it played a major role in many important conflicts, including the Invasion of Normandy, the Battle of Midway, the Solomon Islands Campaign, and many more.[1]
United States Naval Aviation is part of the Naval Organisation, and is under the direction of the Secretary of the Navy.[N 1]
Administration
Administration of the United States Navy was handled by the Navy Department, in association with the Bureau of Aeronautics, who wee responsible for design, procurement and upkeep of naval aircraft and aircraft equipment, together with the training of naval air personnel.
Organisation
The Aircraft Squadron is the standard administrative and tactical unit in all naval operations. Carrier based squadrons comprise eighteen aircraft, sub-divided into two divisions of nine aircraft each. Patrol squadrons comprise six or twelve aircraft, but squadrons operating from battleships and cruisers vary in their complement. Three sections of three aircraft form an Observation Squadron attached to each battleship division of three ships. Four cruisers usually form a division, and each cruiser carries a section of four aircraft, the four sections forming a cruising scouting squadron.[2]
Capital ship classes
Aircraft carriers
Battleships and Battle Cruisers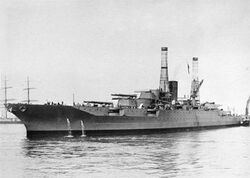 Cruisers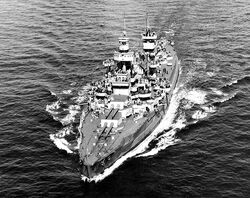 Frigates and Destroyers
Corvettes
Submarines
Escorts and Patrol Boats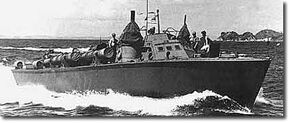 Support Ships
Logistics Vessels
Attack Transports
Cargo Ships
Landing and Amphibious Ships
Minesweepers
Oilers
Command Ships
At the time of the United States entering the war after the Bombing of Pearl Harbor, there were thirty four naval operational, training, overhaul, test and airship bases in the continental United States, the West Indies, the Pacific and Alaska. These were supplemented by sixteen Naval Reserve Aviation bases. The period 1942-1943 saw the establishment of an additional twenty three shore bases. These comprised twenty one naval air stations, including three for lighter than air aircraft, and two Naval Reserve Aviation bases.[2]
Training
Fighters
Strike Aircraft
Observation Aircraft
Transports
References
Notes
↑ The sections on Administration, Organisation, Naval Air Stations, Training and Naval Air Transport relate to the situation as recorded during 1945.[2]
↑ In addition to these types, a special unit, designated VCS-7, operated Supermarine Spitfire fighters loaned from the RAF for observation duties during Operation Overlord, as the existing types were considered too vulnerable.[3]
Sources
↑ 2.0 2.1 2.2

*Gunston, Bill (Forward). Jane's Fighting Aircraft of World War II. Tiger Books. 1989. ISBN 1-85501-996-5. (Reprint of Jane's All The World's Aircraft 1945/1946. Bridgeman, Leonard (Editor). 1946). Page 56

↑

Fly Past. Published monthly by Key Publishing Limited June 2014 Page 96
Community content is available under
CC-BY-SA
unless otherwise noted.