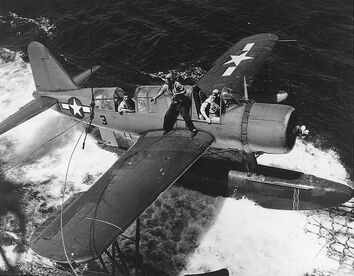 The Vought OS2U Kingfisher was an American floatplane used for observation during World War II.
Description
The OS2U-3 was armed with two Browning M1919 machine guns, and could carry 300 kF of bombs or depth charges. A 450 hp (336 kW) Pratt & Whitney R-985-48 engine gave it a top speed of 264 km/h at 1,675 m. Service ceiling was 13,000 ft (3,980 m), and range was 805 miles (1,870 km). Empty weight was 4,123 lb (1,870 kg), and max take off weight was 8,000 lb (2,722 kg). Measuring 33 ft 10 in (10.31 m) in length and 15 ft 1 1/2in (4.61 m) in height, the Kingfisher had a wingspan of 35 ft11 in (10.95 m) and wing area of 262 sq ft (24.34 sq m).[1]
Variants
XOS2U-1: Original prototype with R-0985-4 engine.
OS2U-1: Initial production example (54 examples) with 450 hp R-985-48 engine.
OS2U-2: Production version (158 examples) with different equipment and R-985-50 engine.
OS2U-3: Major production version (1,006 examples) with self seal fuel tanks, armour protection and R-985-AN-2 engine.
OS2N-1: Version of OS2U-3 (300 examples) built by Naval Aircraft Factory. Some fitted with R-985-AN-8 engine.
XOS2U-4: Single OS2U-2 with narrow chord wings and other aerofoil revisions. Not selected for production.[1]
History
Designed in 1937 as the VS-310 Kingfisher, to replace the Vought O3U Corsair, the OS2U was first flown as a landplane in March 1938, with the floatplane version following on 18 May 1938.[1] Entering service in 1940, the Kingfisher was Vought's first monoplane.[2] The Kingfisher was commonly mounted on catapults on large capital ships, such as heavy cruisers or battleships, but its floats could be removed and replaced by fixed landing gear to allow it to operate from land bases.
Other Users
Great Britain received 100 examples, designated Kingfisher Mk I, under the terms of the Lend Lease Program. Other examples were supplied to Argentina (9), Chile (15), the Dominican Republic (3), Mexico (6) and Uruguay (6). In addition, 24 examples intended for the Netherlands East Indies were taken over by Australia when the NEI were overrun by Japan, with 18 of the aircraft serving with the RAAF.[1]

References
↑ 1.0 1.1 1.2 1.3

World Aircraft Information Files Aviation Partwork. Midsummer Books Ltd. File 910 Sheet 6 (A-Z of Aircraft:V - Vought F7U Cutlass to Vultee V-72 (A-31/A-35 Vengeance) )
Related Links
Bomber Aircraft of the Soviet Union

Dive Bombers
Light Bombers
Medium Bombers
Heavy Bombers
Ground Attackers
Patrol Bombers
Community content is available under
CC-BY-SA
unless otherwise noted.